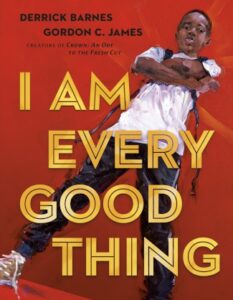 YOU'RE INVITED! JOIN US FOR A VIRTUAL READ ALOUD WITH AWARD-WINNING ILLUSTRATOR GORDON C. JAMES
I 
AM EVERY GOOD THING 
by Derrick Barnes and Gordon C. James
Friday, Feb 26
th
| 10 am
Read aloud will be held via Zoom. All families and classrooms are welcome!  
In-person classrooms will stream the event live at MCC. Home-based and virtual families are invited to join us via Zoom. All classrooms will receive a copy of the book for use in school. A limited number of copies are available for home based and virtual families on a first-come-first-served basis!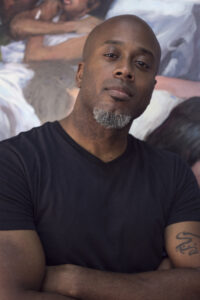 ABOUT I AM EVERY GOOD THING
"Barnes and James reunite, after the multi-award-winning success of Crown, for this beautiful and necessary book that affirms Black boys and their right to thrive." 
James's vibrant oil-paint illustrations harmoniously depict Black boys in motion, in contemplation, and in full vitality as they skateboard, swim, or stand contemplatively in the outdoors." 
—Horn Book Review 
"A much-needed book for Black children… and a celebration of Black excellence." 
—Kirkus Reviews 
ABOUT GORDON C. JAMES
Gordon C. James is the award-winning illustrator of CROWN: AN ODE TO THE FRESH CUT, written by Derrick Barnes, for which Gordon received the Caldecott Honor, Coretta Scott King Honor and Ezra Jack Keats Honor awards, among others. Some of his other works include illustrations of Patricia McKissack's SCRAPS OF TIME series. 
Gordon's illustrations are soulful, emotive and technically sound. He works hard so that we know how the characters look and, more importantly, exactly how they feel. As a testament to these qualities, his illustrations were part of an exhibition at the Asheville Art Museum in Asheville, North Carolina. Among the many awards Gordon has received for his work is a Society of Illustrators Gold Medal. 
Gordon C. James lives in Charlotte, North Carolina, with his wife Ingrid and their two children Astrid and Gabriel. He is proud to create beautiful works of art that help to tell stories and bring books to life.