About Manny Cantor Center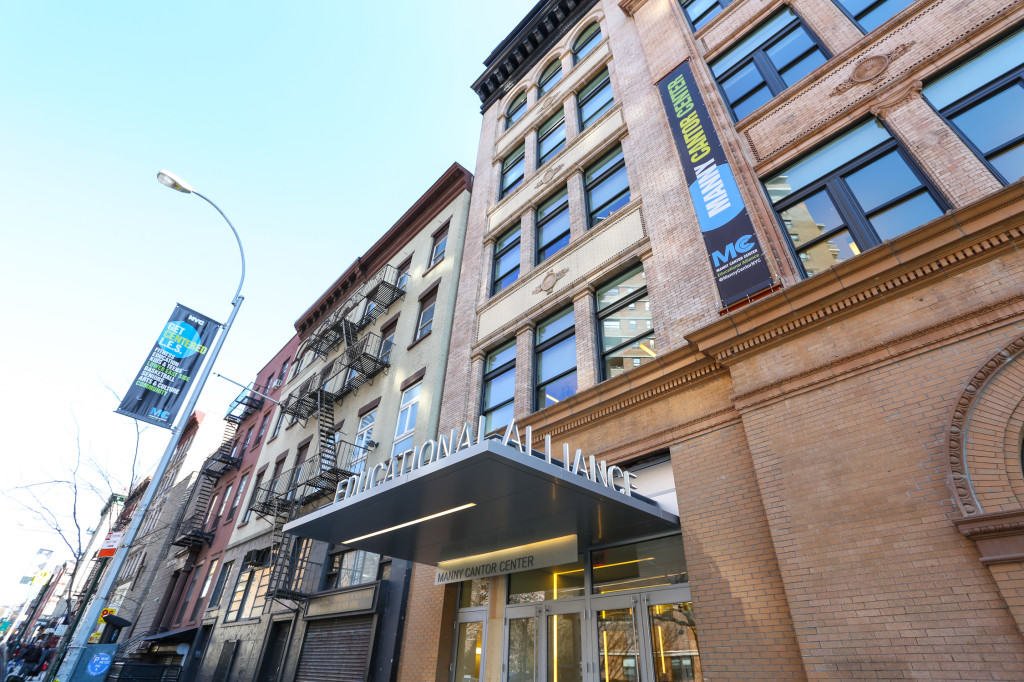 THE LOWER EAST SIDE'S COMMUNITY HUB
Educational Alliance's Manny Cantor Center, is a community center for all in the Lower East Side. Offering exciting events, award-winning programs, and critical services for people ages 0 to 100+, the Manny Cantor Center is a hub of diversity and inclusivity, of health and fitness, of education and of excellence. We hope the Manny Cantor Center will provide a space for growth, achievement, enjoyment and connection for all Lower East Siders today.
WHO IS MANNY CANTOR?
Inspired by the life of our namesake, an industrious Polish immigrant who came to the U.S. to make a better life for himself and his family, the Manny Cantor Center is a gathering place and an inspired space for the entire community to learn, to laugh and to connect. Manny Cantor immigrated to the United States from Poland in 1921, at the age of 16. When his father passed away, Manny began to work as a stock boy in a small retail store, while also studying English and completing his education. Eventually, he started a wholesale dry-goods business which grew successful enough to support his wife and their two children, as well as his extended family when they needed his help.
Manny Cantor was of the generation of immigrants who regarded this country as the land of opportunity.
After establishing his own success, he dedicated himself to giving back to his community. Manny Cantor passed away in 1952 at the age of 47, but his legacy and values lived on in his two sons – both of whom achieved graduate-level education and had successful professional careers – as well as seven grandchildren, and seventeen great-grandchildren. We are proud to name the Lower East Side's new hub after a man of such tenacity and whose shared our universal values of community and giving back.
OUR MISSION AND VISION
Manny Cantor Center is a living laboratory for the values of inclusion, diversity, and community.
As the flagship community center of the historic Educational Alliance, Manny Cantor Center offers award-winning programs, critical services, and exciting events for people of all ages and backgrounds. We work for and with our vibrant and diverse neighborhood to create experiences that make a difference in our lives and in our world. 
Our commitment to the diversity of the Lower East Side is reflected in our programming.
Our Early Childhood Program reflects the cultural, religious, and socio-economic diversity of our city; the Weinberg Center for Balanced Living and our Coop Village NORC create a community for older adults of all backgrounds and abilities; our fitness center is utilized by neighborhood residents of all ethnicities, income levels, and ages through an innovative tiered membership model.
Educational Alliance Art School features personalized top-quality instruction in a small-group setting, affirming our belief that everyone, regardless of age, ethnicity, or socio-economic status, should have the opportunity for self-expression and lifelong learning. Our nationally recognized MCC Changemakers Program brings our neighborhood together in meaningful service and advocacy for a better world.
Our Edgies Teen Center and College Prep Program serves young people in our community with after-school recreation, fitness, SAT prep, and tools for college success. And our Family Resource Center welcomes all individuals and families with holistic support, including mental health, access to benefits, parenting classes, opportunities for continuing education, and job readiness.    
With light-filled early childhood classrooms, a state-of-the-art fitness center, spacious art studios, and a top-floor community space for public events, our LEED-certified Center gladly welcomes New Yorkers from the Lower East Side and beyond. 
We seek to bring our diverse constituents together over shared goals for our neighborhoods and our city. We are guided by a strength-based model, believing that everyone is called upon – -and everyone is able — to help transform our world. 
We look forward to seeing you.