Weinberg Center for Balanced Living
All seated meals and group classes for seniors are suspended until further notice.
Due to the risk that the COVID-19 coronavirus poses to older adults in our community, we are taking important steps to encourage social distancing and limit the potential transmission of the virus. 
We will not serve seated meals in our senior centers until further notice, as a precautionary measure. We will provide a take-home meal option for members.  
On March 12th, breakfast can be picked up during our regular breakfast service time in the M level gallery space. Lunch pick up on March 12th will begin at 11:30am, and will include breakfast for Friday. 

 
Beginning Friday, March 13th and continuing through the rest of the month, lunch service will be provided for pick up at 11:30am each day on the M level, Monday through Friday. Packages will include breakfast for the next day. 

 

There will be no meal service on Tuesday, March 17th, as Manny Cantor Center will be closed that day.

 
All group classes are also canceled in our senior centers until further notice. One-on-one counseling will still be available. 
Please see a staff member with any question, or email us at info@mannycantor.org. We will continue to provide updates as we have more information. Thank you for helping to keep the WCBL community healthy and safe. Read more information on our health and safety policies and procedures here.   
Weinberg Center for Balanced Living (WCBL) is known on the Lower East Side as the "young" senior center. Over 70% of our members are recent retirees, and our offerings reflect the diverse interests of Baby Boomers. Group exercise, arts & education, advocacy & social events, as well as fresh kosher breakfast and lunch are all available Monday-Friday.
Check out our monthly calendar HERE to get the most up to date information. Case workers are also available to answer questions about Medicare, Social Security, housing, and other issues. Please visit the Weinberg Office on the 4th Floor of Manny Cantor Center (197 East Broadway) to sign up for membership.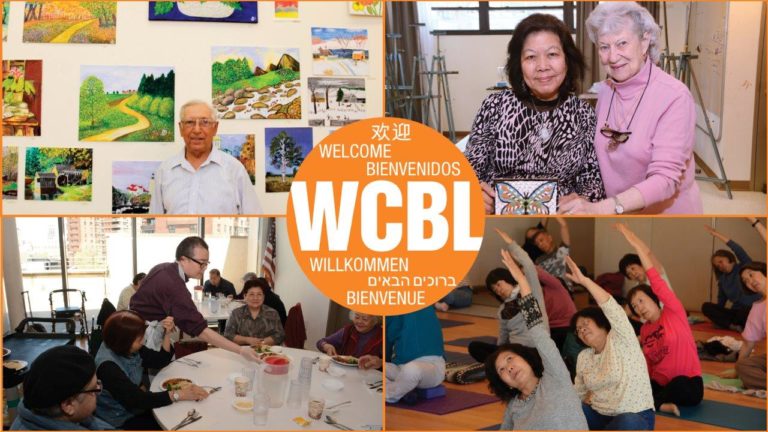 WCBL Membership
WCBL activities and classes are designed to be engaging and enjoyable — while meeting a variety of interests, fitness and health levels.
Weinberg Center for Balanced Living serves community members over the age of 60, and their spouses. Please visit the Weinberg Office on the 4th Floor of Manny Cantor Center to sign up for membership. Sign-up Office Hours are Monday to Friday from 10am-2pm.
For more information on WCBL membership, please call (646) 395-4270 or email WCBL@mannycantor.org.
LEARN MORE
Recently, the Weinberg Center and Co-Op Village NORC expanded their membership options so there's sure to be a class, workshop or event for everyone!
On Mondays – Fridays, the Center also serves hot, healthy kosher breakfast and lunch for a suggested donation of $1 for breakfast and $2 for lunch.
The Weinberg Center for Balanced Living is funded in part by the New York City Department for the Aging.