Weinberg Center for Balanced Living
Weinberg Center for Balanced Living (WCBL) is known on the Lower East Side as a vibrant and active senior center. Our offerings reflect the diverse interests of Baby Boomers, group exercise, arts and education, advocacy and social events, as well as fresh Kosher breakfast and lunch are all available Monday through Friday.
If you have any questions, please leave a voicemail at
(646) 395-4270
, and we will return your phone call or email
[email protected]
for additional questions.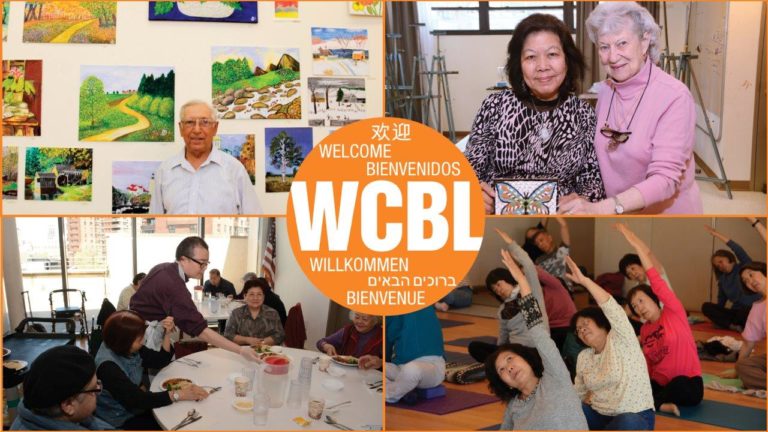 WCBL Membership
WCBL serves New Yorkers who are 60 years of age, and their spouses or domestic partners. We also welcome underage individuals who have a physical or cognitive disability and live with a person who is at least 60 years of age or who have a disability and reside in a primarily senior housing facility. WCBL activities and classes are designed to be engaging and enjoyable — while meeting a variety of interests, fitness and health levels.
Registration hours for new members are Wednesdays from 10:00 AM – 11:00 AM. Becoming a member is easy! Contact us at (646) 395-4270 or 

[email protected]

 to schedule a one-on-one membership intake appointment.
Health and Safety
In following recommendations from the NYC Department of Health and NYC Aging, face coverings remain highly encouraged in all WCBL programs and services. Find additional MCC Health and Safety requirements here.
Social Services
Social Services are available in-person, or via phone, email, or video. Please call (646) 395-4270 or email [email protected] with any inquiries or to schedule an appointment with a Social Services staff person. Learn more about Social Services here.
Meals
WCBL serves Dairy Kosher meals in-person only. Congregate breakfasts are served from 9:00 AM – 9:45 AM or until all meals have been distributed, for a suggested donation of $1. Congregate lunches will be served Monday – Friday from 12:00 PM to 1:00 PM, or until all meals have been distributed, for a suggested donation of $2. While we deeply appreciate meal donations, which are used to support WCBL's programs for older New Yorkers, please know that no individual will be turned away for not contributing. Learn more about our Meal Program here.
To find an OAC near you that serves Grab-and-Go meals or other types of cuisine, contact Aging Connect at 212-AGING-NY (212) 244-6469 or conduct a search here.
Please See Our Code of Conduct:
I have spent over a year participating in dance classes with Margaret Yuen. These classes helped me establish a balance of activities that are keeping me emotionally and physically strong. I am in my 70s and I find I'm thriving in Chinatown, meeting very qualified and friendly people to pursue new passions! Life without this center – especially with the challenges of a pandemic – would have been hard. I'm met every day by people who greet me at the front desk and who I've come to know as friends. This level of familiarity exists as I move throughout the building where I feel welcomed and appreciated. 

Learning dance is a true highlight of my life. It was fabulous to have an opportunity to showcase my skills with my colleagues. The warmth and encouragement and patience of the staff at Manny Cantor Center are beyond what a job description could possibly require. I want to say I'm grateful for being part of this wonderful community.

The walking program has been a delight of experience! I enjoy earning the intricacies and beauties of our neighborhood. It is always informative and

such a congenial way to become always more familiar with the Lower East Side. Demetra brings a bountiful amount of knowledge to these walk-experiences. I highly recommend this group for all ages!

Sheila, WCBL Member and Volunteer

You are so efficient. Thank you for scheduling my husband's flu shot Hannah. It was so nice to meet you today. I loved both the Handbuilding Ceramics and the Clay Jewelry classes today. They were my first in-person classes since the pandemic. It was wonderful to actually interact with "live" human beings again. I'm feeling hope for a new "normal."

The Breakfast appeared to have been 'called in' from my apartment it was delivered to my table so quickly. I don't know just what is going on there at the Center but it just can't be better. Thank you ever so much.

This is the first senior center I've ever attended. I love it – there is so much to do, I'm busy all day in classes and talking with friends.

The Center has given me my life back.

I've been coming to the Edgies for 50 years. I have made lifelong friends here.
Visit Us
Weinberg Center for Balanced Living Main Office | Manny Cantor Center, 197 East Broadway, 4th Floor
(Located on the corner of Jefferson Street) F train to East Broadway, M14A to Clinton & Grand Streets, or M9 to Essex & Canal Streets
The Weinberg Center for Balanced Living is funded in part by the New York City Department for the Aging.