Our Community Center's Rental Information
Rent The Rooftop @ Manny Cantor Center
With stunning views of downtown NYC, The Rooftop @ Manny Cantor Center is an ideal venue and event space to host your special events; industry gatherings, launch events, weddings and other celebrations.
Available for rent to individuals, corporations, small businesses, and community organizations, each rental supports Manny Cantor Center community programming and our vibrant Lower East Side community.
THE ROOFTOP FEATURES
Renovated 3,100 square foot glass-enclosed multi-purpose space with hardwood floors
Capacity seating for 250
Wrap around, one-of-a-kind outdoor terrace with phenomenal downtown Manhattan skyline views
Fully equipped AV/sound system with bluetooth connection, microphones, and projector system
Catering pantry
Personalized support from Manny Cantor Center Staff
Manny Cantor Center also rents a full-sized 4,600 sq. ft. basketball court for teams and events, as well as rooms for meetings.
READ WHAT OUR RENTERS ARE SAYING:
We are so happy we decided to have our wedding at Manny Cantor Center. We got an absolutely beautiful space at a really accessible rate.  All of the staff were really helpful and went above and beyond to make sure we and all of our guests enjoyed our wedding. Also, we loved that were able to support an organization who's values we share.

Manny Cantor Center's 6th floor event space is a beautiful venue and a great choice for organizations looking to host community-minded events. The space is clean and modern and worked perfectly for our panel discussion. Most importantly, Amy, Dara, and the rest of the staff were a pleasure to work with and very accommodating. We certainly hope to work with them again in the future.

Emma Boast, Program Director, Museum of Food and Drink (MOFAD)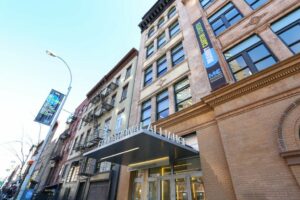 The recently renovated Manny Cantor Center is a transformation of the Educational Alliance's historic flagship building on Manhattan's East Broadway at Jefferson street. The five-story, Romanesque-revival building at 197 East Broadway in NYC has been in continuous use since its completion in 1890 by the architects Brunner & Tryon.
It is the centerpiece of a larger facility that includes a nearly seamless 1920's six-story addition to the east and a 1964 modernist community facility and residence, the Podell Building, to the south.
The vast expanse of these buildings has enabled the Educational Alliance (often called the "Edgies") to serve thousands of people of all ages and backgrounds for 125 years. Platt Byard Dovell White Architects re-imagined the building's aging facilities with the evolving needs of the community and the aspirations of the Educational Alliance and Manny Cantor Center to meet these needs in mind. The result is a fully renovated, environmentally friendly, multi-purpose and gorgeous space–with incredible views.
ABOUT MANNY CANTOR CENTER
Opened in 2014 in the newly renovated Educational Alliance building as its flagship community center, Manny Cantor Center is a settlement house of yesterday and a community center for today, and tomorrow. Offering arts, culture, wellness, education and social services for ages 0-100+. All are welcome.