Educational Alliance Art School
As #MCCGoesDigital, we will be sharing a weekly Artistic Challenge with our community that everyone can participate in from home.
Artistic Challenge
With this week's artistic challenge, Surreal Selfies, we challenge you to create a surreal portrait of yourself that highlights a different part of your personality than what you would usually show the world. We're using the term selfie loosely for this prompt, your portrait can be an assemblage of meaningful items, a photo of your beloved pet, whatever you like. In these strange times we'd like to use our art to add a little bit of levity into this week.
This article has some great tips for creating surreal photos using your smart phone. Also, Apps like Mirror Photo & Video Editor, Surreal Wigs, and Union, are all great tools to get started creating surreal photos on your phone, and they are all free on the App Store, or Google Play!
Evan's Surreal Selfie
My Surreal Selfie is inspired by, and maybe even a love letter to, the Saved by the Bell opening credit reel, and 2010s Vapor Wave design aesthetic. Enjoy! For more information about this week's artistic challenge, click here.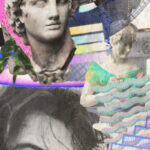 Artist Highlight
Studio Apprentice, Alex Lebedev, writes about his experience rebuilding a wood kiln in Washington, CT. Read more about him here.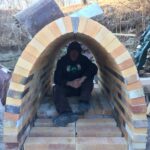 WELCOME!
For more than a century, Educational Alliance Art School has been a platform of opportunity by which New Yorkers of all ages and backgrounds have pursued creative expression, skill acquisition, and arts appreciation. Seminal artists—including revolutionary American sculptors Chaim Gross and Louise Nevelson, as well as the great Abstract Expressionist painter Mark Rothko—have served as students and faculty here, and today, the Art School at Manny Cantor Center is one of New York City's premier community art schools, with an expansive selection of classes and workshops to choose from.
We offer 5- and 10-week courses, which means more options to get creative with expert instructors in our studios. As always, our classes feature personalized instruction in a small-group setting and ample Open Studio time on weekdays and weekends. We are committed to serving the greatest diversity of students, out of our belief that everyone, regardless of age, ethnicity, or socio-economic status, should have the opportunity for self-expression and lifelong learning.
To learn more, contact us at 646.395.4258 or art@mannycantor.org.