Educational Alliance Art School
As #MCCGoesDigital, we will be sharing a weekly Artistic Challenge with our community that everyone can participate in from home.
Artistic Challenge 4/6 – 4/10
This week's Educational Alliance Art School Artistic Challenge is Interior Landscapes. We challenge our community to create an original piece of art based on their immediate physical surroundings, or based their current psychological state. Participants can use whatever media they feel best suits their creative process– photography, pen and ink, oils, acrylic, pastels, etc. Van Gogh famously did a series of paintings based on his bedroom in Arles, France. With this famous piece of art as a stepping-stone, we encourage you to think outside the box and create an emotive landscape of a space that holds a special significance to you in reality or in your memory. Post your interior landscapes with a short description on your social media accounts and add our hashtag, #eaartchallenge. If you don't use social media, please send a photo of your piece to ehagan@mannycantor.org with a short description attached.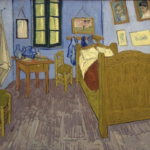 Artist Highlight
Lynn Goodman, Ceramic Artist & Educator, is a native New Yorker. She currently lives and works in Brooklyn. She received her BFA at the Philadelphia College of Art (now known as the University of the Arts), and went on to receive a MFA in Ceramics at Southern Illinois University at Carbondale. Lynn has shown nationally in juried exhibits and invitationals, and is a former partner of the cooperative crafts gallery, Brooklyn Artisans Gallery. She teaches wheel throwing, hand building and the occasional glaze calculation class at local ceramics studios in the New York City area and at the college level. Lynn's art and process are best described in her own words here. 
Learn more about Lynn's work on her website or follow her on Instagram.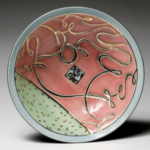 Virtual Classes and Conversations 
Our first virtual painting class will start on Sunday, April 19, at 3:30 pm! Jodie Niss, Educational Alliance Art Instructor, will be teaching Introduction to Watercolor from her home studio in Brooklyn. This one-and-a-half hour class will include a video demo from Jodie, live instruction, painting time, feedback from Jodie and time to share your work with others. This class will introduce you to watercolor painting techniques in a fun and easy way. 
You will explore color mixing, composition and basic techniques such as wet-on-wet and dry-brush methods. You will use still lifes and other reference materials for inspiration. All levels are welcome!
Sundays from 3:30 – 5:00 PM on 4/19, 4/26, 5/3 and 5/10. Please view Jodie's materials list and watch her YouTube video for materials you will need before the class and how to set up. Log in at 3:20 pm if you need to ask questions about your materials or set up before class begins. Register here if you plan to come! See you in two weeks! You'll need to download the Zoom app on your phone or computer. You can find basic instructions on using Zoom here.
Virtual Salon
Kehinde Wiley, The World Stage: France, 1880 – 1960
In this salon, we will discuss Kehinde Wiley's process as he prepared for his 2012 show at Galerie Daniel Templon in Paris, France. For this exhibition, Wiley examined African cultures and the colonial history of France in Africa (1880-1960). To gather reference materials and inspiration, Wiley explored Morocco, Tunisia, Gabon, Republic of Congo and Cameroon. We are not meeting this week due to Passover but hope you will join us next Thursday, April 16, at 6:30 pm! Follow this Zoom link to join the chat: https://zoom.us/j/417517226.
Interactive Tools for Young Artists
Scrap Coloring: If your kids love to color, they'll enjoy playing with digital patterns using Scrap Coloring. There are many templates to choose from and the areas within these can be filled with either solid color or a range of patterns. The patterns can also be reconfigured by adjusting the colors.
Scribblify (iOS and Android app): This free app has a huge range of brushes, backgrounds and colors that encourage kids to play with color, lines and symmetry. The app is easy to use and kids can start drawing instantly. If you want more information on the app, the Scribblify website explains everything. The app is free but you can pay for more tools in a Premium version.
Additional Resource Links
Ceramics
John Baymore: What Makes a Tea Bowl a Chawan?
Adjunct Professor of Ceramics at New Hampshire Institute of Art, John Baymore, lectures at NCECA 2016 about the aesthetic and philosophical themes that make a tea bowl a chawan.
Japan Spirit and Form #6: Japanese Tea Bowls                                           
"The Cosmos in the Hand" is the sixth episode of the NHK series, Japan: Spirit and Form, which focuses entirely on Japanese tea bowls. This is an in depth look at the history, traditions, and aesthetic trends of tea bowls. The roots and influence of Chinese ceramics on Japanese pottery is also explored as well as the influence of Japanese pottery on European artists and potters.
Mixed Media
Shara Hughes Interview: Changing the Way We See- Louisiana Channel (2019)
Shara Hughes (b. 1981) is an American painter, who is particularly known for her colorful invented landscapes. In 2017, Hughes was included in the Whitney Biennial, and her works are held in many private and public collections. She lives and works in New York City.
Ai Weiwei: With Out Fear or Favor- BBC Imagine (2011)
Ai Weiwei is a Chinese contemporary artist active in sculpture, installation, architecture, photography, film, and curation. His powerful works focus on social, political and cultural issues. This video demonstrates how his life and art reflect his belief that, "It's only when art connects to ordinary feelings and ordinary common sense that it becomes more powerful." Highlights include his installation with 100 million ceramic sunflower seeds.This video is in Mandarin and English with subtitles.
WELCOME!
For more than a century, Educational Alliance Art School has been a platform of opportunity by which New Yorkers of all ages and backgrounds have pursued creative expression, skill acquisition, and arts appreciation. Seminal artists—including revolutionary American sculptors Chaim Gross and Louise Nevelson, as well as the great Abstract Expressionist painter Mark Rothko—have served as students and faculty here, and today, the Art School at Manny Cantor Center is one of New York City's premier community art schools, with an expansive selection of classes and workshops to choose from.
We offer 5- and 10-week courses, which means more options to get creative with expert instructors in our studios. As always, our classes feature personalized instruction in a small-group setting and ample Open Studio time on weekdays and weekends. We are committed to serving the greatest diversity of students, out of our belief that everyone, regardless of age, ethnicity, or socio-economic status, should have the opportunity for self-expression and lifelong learning.
To learn more, contact us at 646.395.4258 or art@mannycantor.org.
Learn More About Our Classes!