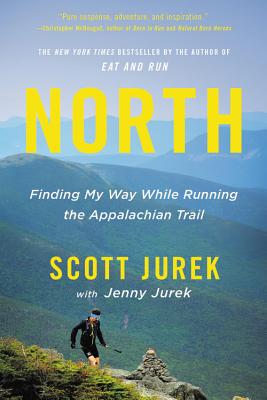 Book by Scott Jurek with Jenny Jurek
Reviewed by Max Hines
Everyone has, at one point or another, a huge goal that seems impossible. Climbing a really big mountain, playing a sport at the top level, becoming a famous actor. For a small group of people, that huge goal might be a long journey. A very, very long journey. The Appalachian Trail, stretching over 2,000 miles from Georgia to Maine, is just that journey to some. People spend months on end, "thru-hiking" this beast, traveling on foot through peaks, valleys, forests, rock fields, and everything in between. The trip is not for the faint of heart, and while some few attempt to thur-hike the Trail, even fewer complete the endeavor as they battle the elements and their mind––often their largest adversary.
In 2015, accomplished ultrarunner Scott Jurek decided to make his goal a reality. His goal, however, was different from most thru-hikers' Not only would he run the trail, he would attempt to record the fastest known time (FKT). Even further upping the degree of difficulty is the fact he would attempt to travel northbound. Up to that point, the fastest time was a southbound route. He would have to cross through the toughest parts of the Trail when he was most tired – Vermont, or "Vermud" as it is called by many, the punishing White Mountains of  New Hampshire, the untamed wilderness of Maine, and a finish up Mount Katahdin. If anyone could do this, though, it was Jurek. He is an icon of the ultrarunning world for, among other accomplishments, his numerous wins of the Western States 100 Mile Endurance Run, the most prestigious 100 mile race in the United Sates.
Jurek's take North, co-written with his wife Jenny who supported him along the way, gives a wonderful view of life on the trail as he attempts to travel over 50 miles a day, navigating obstacles both physical and mental. From early injury to the inevitable doubt accompanied by setting off a nearly 50-day journey, Jurek documents his trails and tribulations and invites the reader to travel vicariously through the "green tunnel" of the A.T. A trip of such epic proportions isn't itself without a supporting cast, and both he and his co-author, his wife and crew captain Jenny Jurek, describe his friends and supporters in full color. From accomplished runners David "Horty" Horton to Karl "Speedgoat" Malone to regular runners accompanying Jurek for a few miles in their neighborhood, there are always many people to enjoy reading about throughout the book.
One might think the Appalachian Trail is just a long, boring, stretch of woods going along the East Coast, but North displays a different perspective, highlighting the unique towns, roads, and people all the way from Georgia to Maine. Overall, Jurek recounts his historic trek vividly, putting you in his shoes for over 2,000 miles and through many states as he learns about himself and the Trail while going on a stunning, life-changing adventure.